The success of any project lies in the preparation, the effects of which are never more pronounced than in landscaping.
Our understanding and appreciation of the importance of subsoil and topsoil preparation saves our clients tens of thousands of pounds, avoiding the need to return to sites/plots where there have been issues caused by incorrect ground formation.
We are specialists in our field and through working with other landscape professionals, such as Tim O'Hare Associates, the risks and liability for the successful establishment of a landscaping scheme are mitigated.
With today's focus on the green infrastructure of projects, their value also increases, which is why having a clear chain of responsibility sitting with one specialist contractor removes any grey areas should there be any issues.
Our 360° approach to landscaping, taking a scheme quite literally from the ground up - starting with earthworks, through to installation and then finally offering an aftercare maintenance service - not only drives project efficiency, but also means the landscape develops how the landscape architect intended, thus delivering value to the client through the enhanced appearance of the development.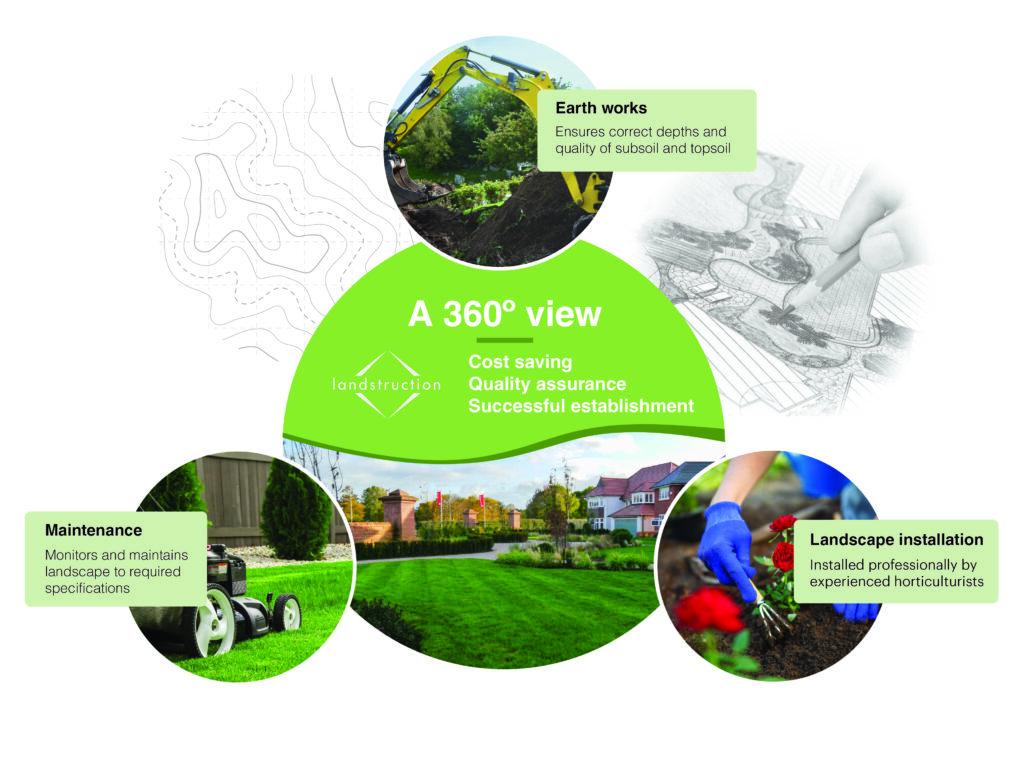 We have years of experience in working on large-scale commercial projects and have an in-house team who can offer the following ground work services along with our landscaping expertise:
Ground civilising
Topsoil stripping
De-vegetation
Batters/swales/bunds
Bulking out
Proof digging
Loading ADTs
Attenuation ponds
Lakes
If you have a project in mind that you would like to talk to us about, please either ring the team on 01244 880422, or email us at create@landstruction.com